Steel and Lexan Display - Unbreakable!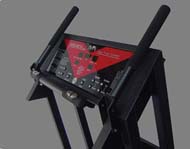 Steel and Lexan display panel protects expensive electronics from accidental damage or vandalism. Impervious to dropped dumbbells, spilled sports drinks and sweat. Moisture resistant sealed buttons are tested to over 1,000,000 cycles and can be replaced individually.
Five windows show constant readouts for Speed, Calories, Time, Distance and Incline.